Discover and collect artwork of emerging artists
Establishing the brand vision and UX/UI for the Artvoy website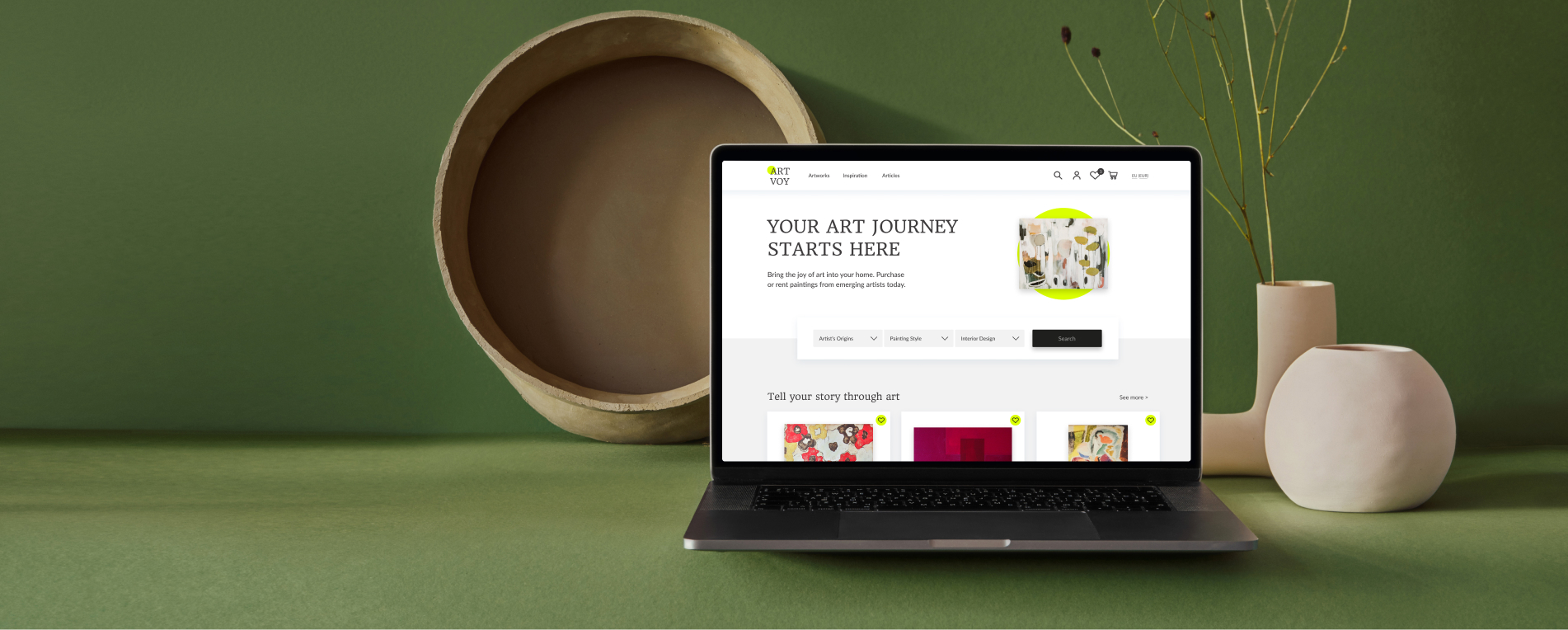 Artvoy sells paintings over 5k on their mobile-web experience. They find it difficult to acquire and convert new, younger users. Younger users are abandoning the website without moving any items to their cart. Additionally, 70% of younger users who place items in their cart do not purchase a piece.
Created the concept single-handed over a series of weeks. As the artworld is changing, I wanted to take into consideration both the user and expert perspective. By focusing on the research and concept phase, a platform emerged that attracted and converted younger users by offering flexibility and tailored options.
Responsibilities
Brand Strategy
Experience Strategy
Customer Experience
UX Research
UX Testing
UX Design
UI Design

Analyse
Both art collectors and gallery owners agreed that art purchases of that scale are still emotionally-driven and seen as a way to enhance life. Art purchases of this type are not regarded as investments. Users buy on aesthetics and want to make a spontaneous purchase. Trust, credibility and communicating value are key to convert users on a new platform.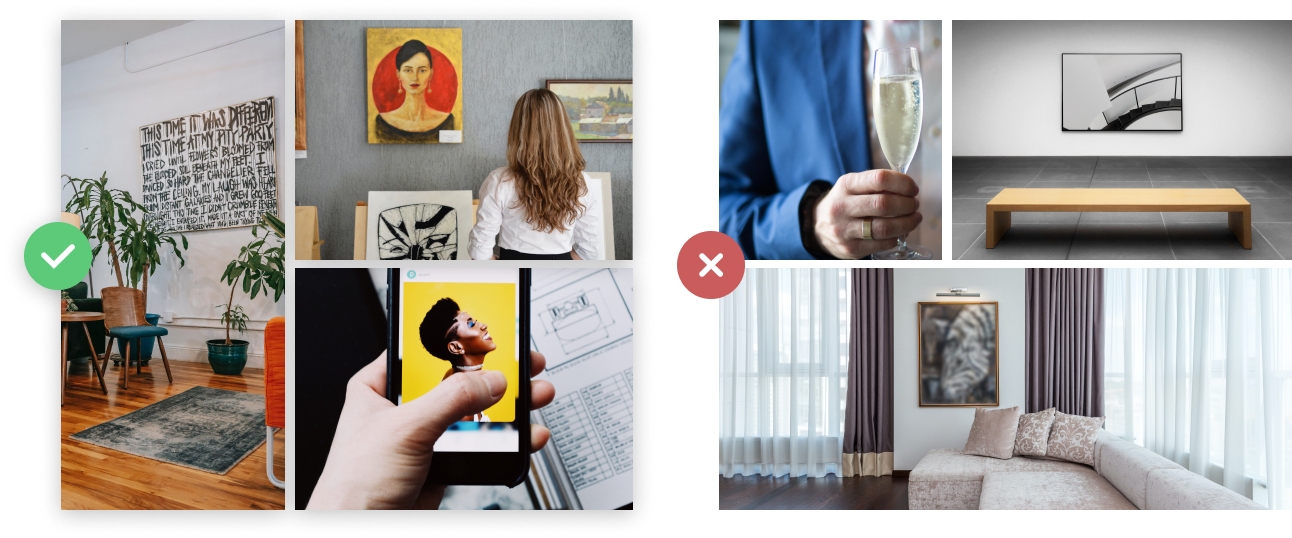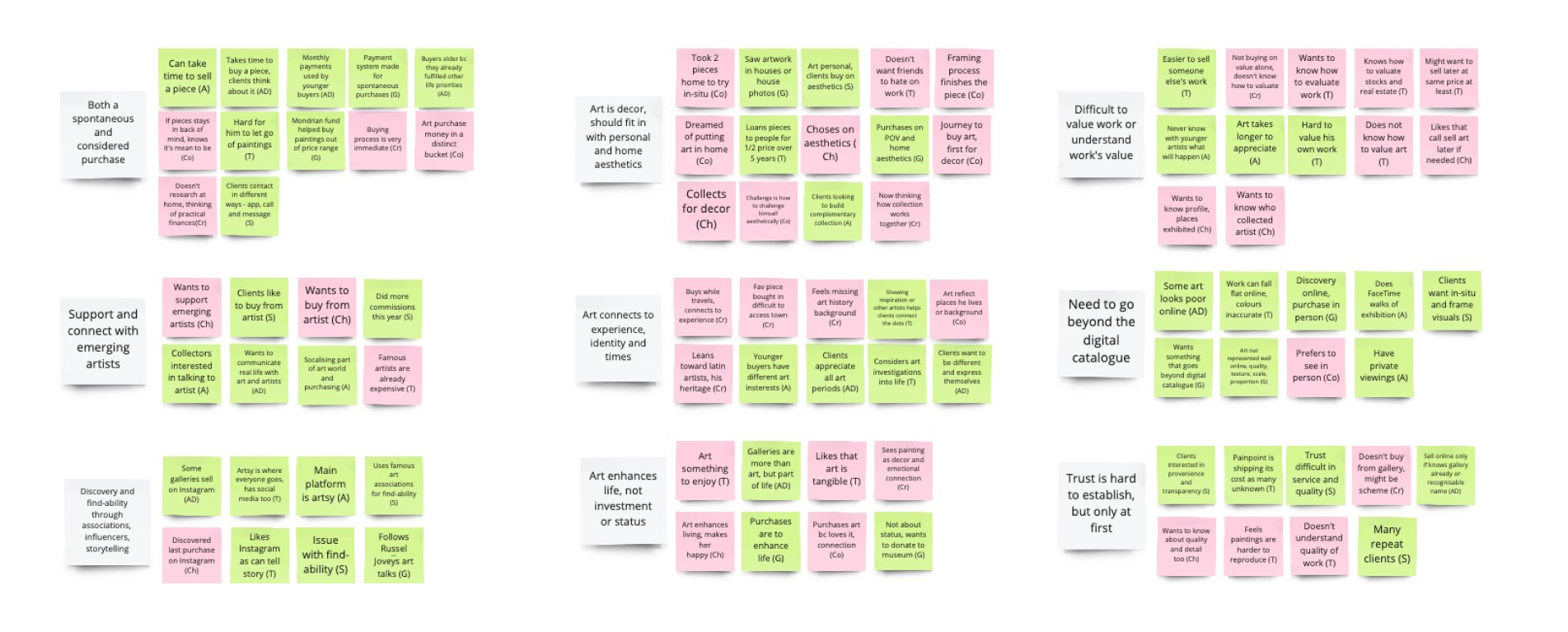 Affinity diagram: 90 insights were gathered and organised after conducting nine interviews with both potential users and art experts for a total of 7 hours of video.
Users emphasised:
Art is a means to express yourself and tell your story. Many viewed art as meaningful home decor, even taking pieces home to try in their home before purchasing.
Experts emphasised:
Findability is a challenge for gallery owners and paintings lose their magic online. Selling a painting takes time, where some clients prefer to see a piece in-person.
The art I collect reflects who I am and where I've been. My collection is a mix of European, South African and Dutch.

Corey, Art Collector
Sharpen User Understanding
New to Art and Art Collectors are the two personas of young art collectors. New to Art users feel hesitant about their ability to select artwork, and are open to learning more about art and art collecting. Existing Art Collectors are looking to find pieces to complement or even challenge their existing collection, while discovering new artists.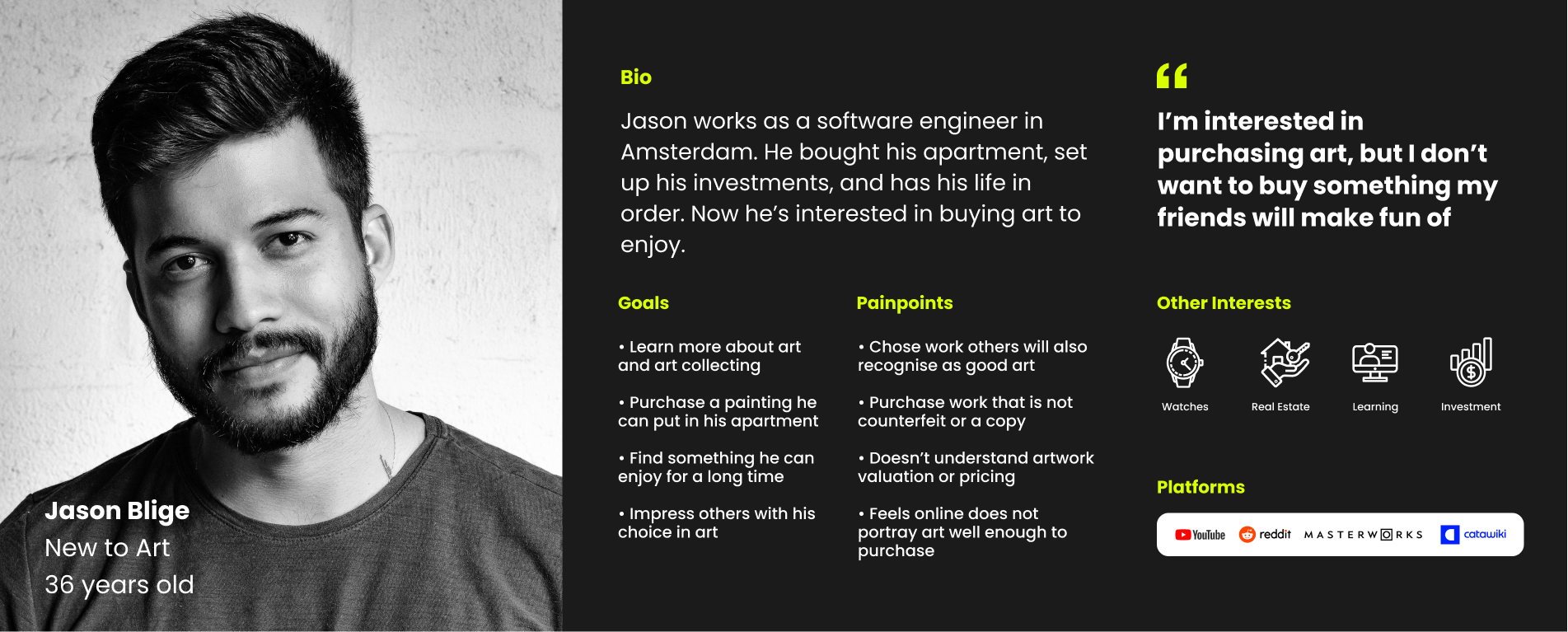 The opportunity lies in helping users make decisions. This is varied across the broader competitor set, where other experiences such as purchasing a house or furniture can be used as inspiration. Secondly, users want to ensure the artwork and platform is legitimate, and overall purchase worry-free.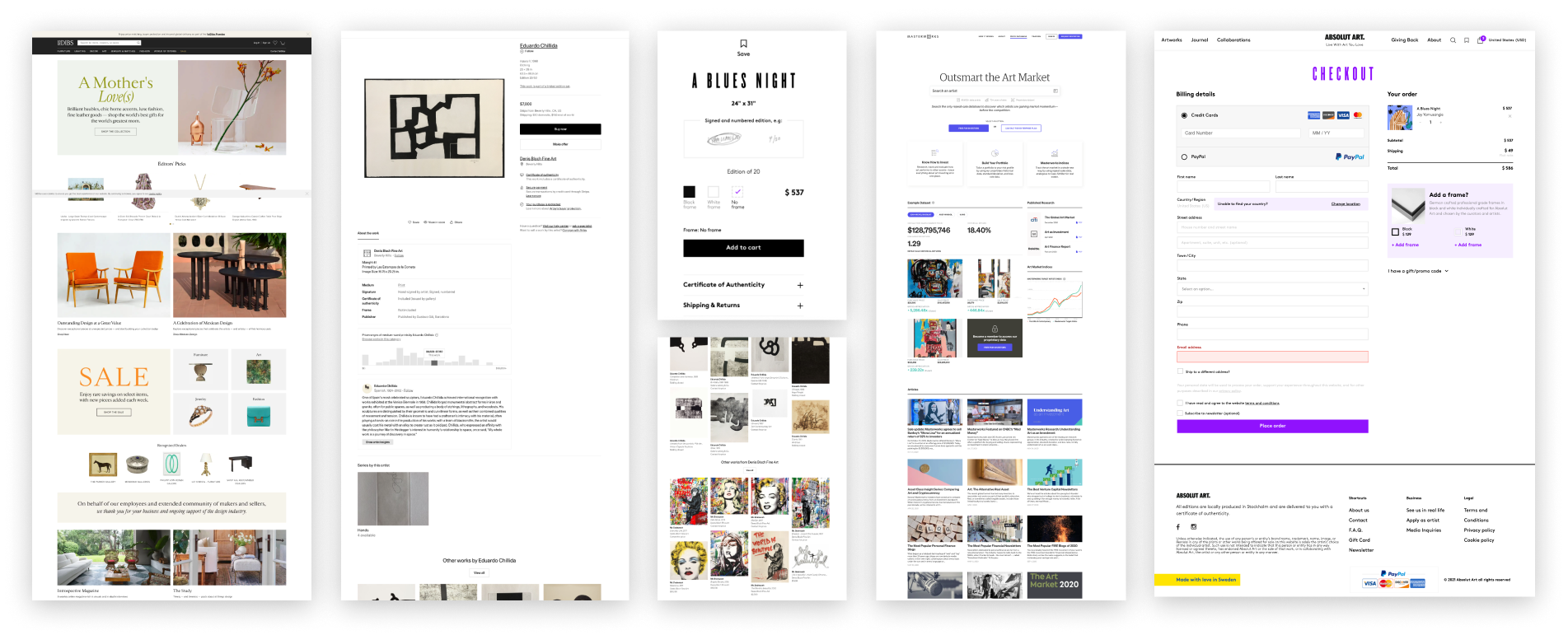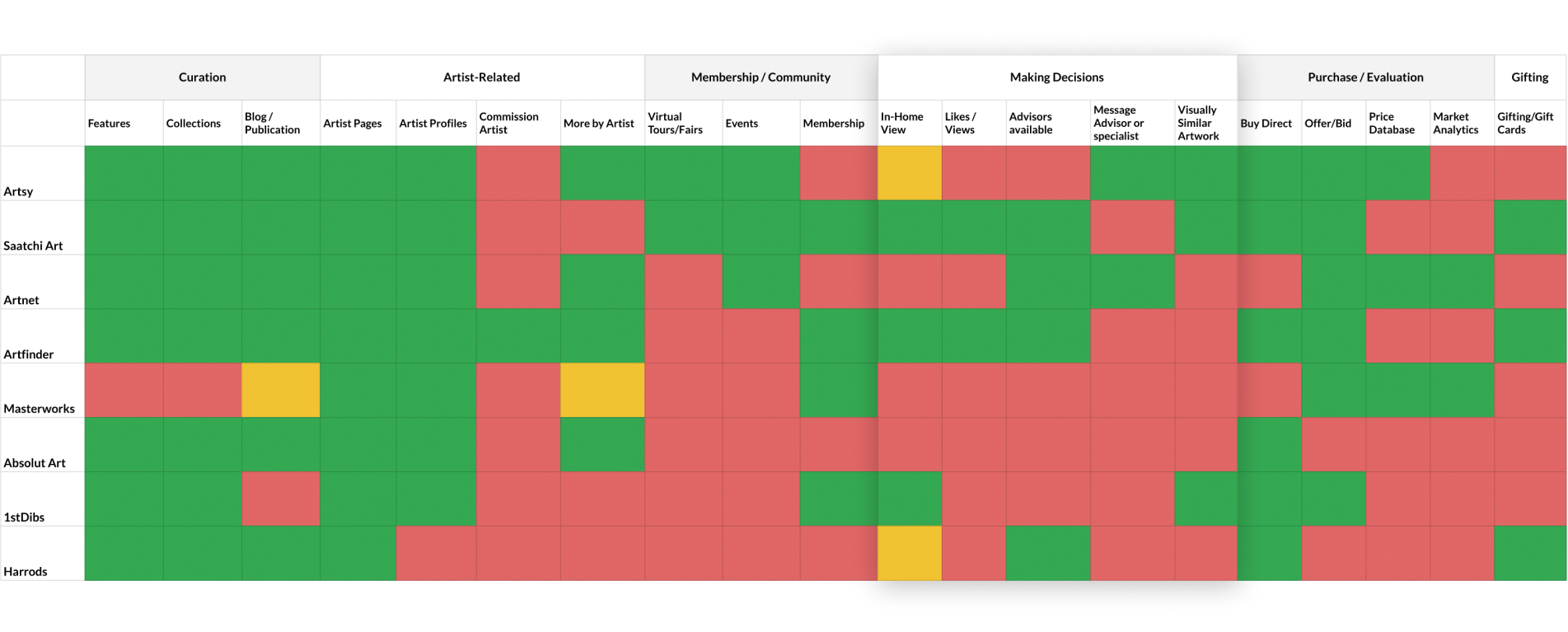 Clients are interested in how a painting will look in their home. We even photoshopped paintings into their spaces.

Suska, Art Gallery Manager
Articulate
Today, aspects of art purchasing or enjoyment are unclear or out-of-reach, especially for our New to Art users. Our brand platform looks to counter this through our approachability, dynamism and reliability. We believe art should be enjoyed by the younger generation, who grew up with different expectations around owning or discovering art.
Mission/Vision
Offer young art collectors a platform to discover and enjoy emerging artists through a flexible, reliable and inspiring experience.
Brand Personality
Our brand looks to bring dynamism and accessibility to art collecting, while still reflecting the awe and wonder of the artworld.
Brand Attributes
Cultured: reflects the artworld
Shrewd: breadth of knowledge
Passion: energy and engagement
Reliable: creates trust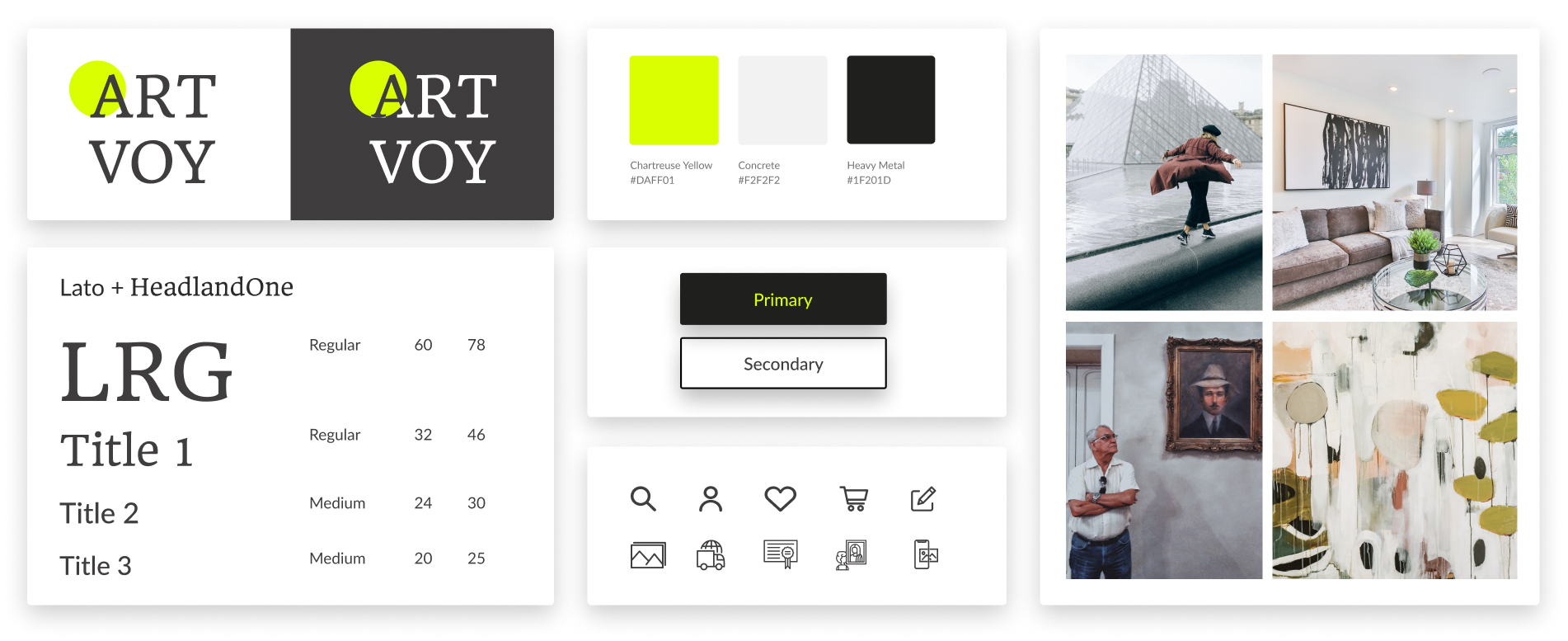 Apply
In order to improve conversion, two red routes were considered. Conversion happens overtime, where users mentioned the value and desire to see paintings in-person. The site map looked to overcome catalogue-heavy art platforms by integrating inspiration, advice and the ability to learn more about art to encourage enjoyable exploration.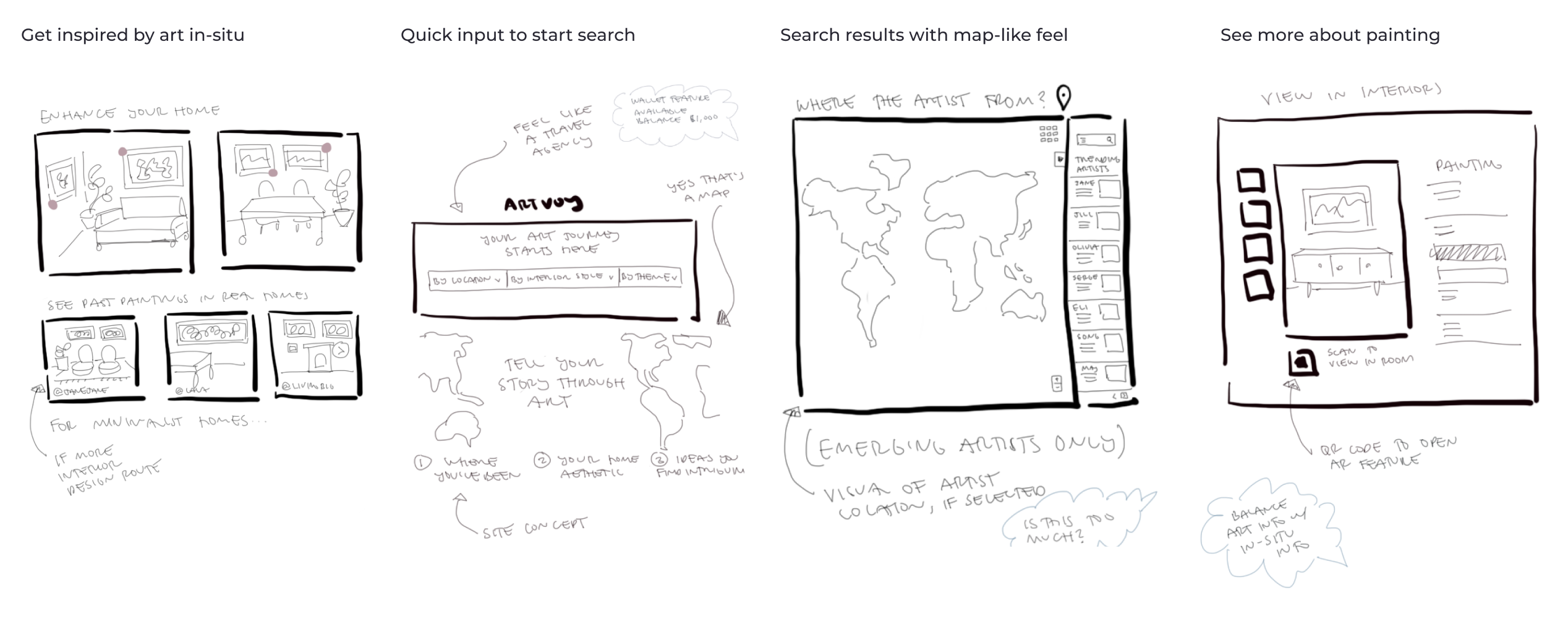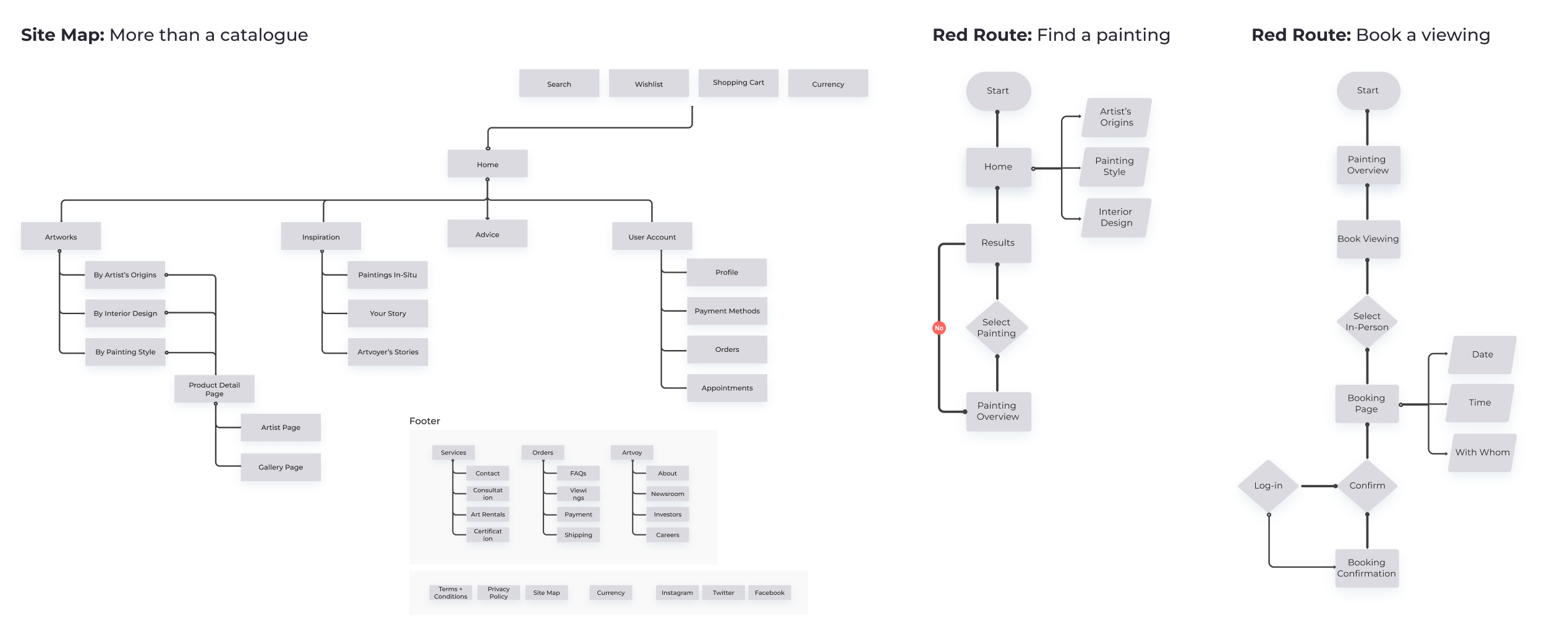 Assess
Conducted two user tests, one for wireframes and the other for the high-fidelity prototype. Looked to uncover usability issues within the red routes. Ensuring the product search was clear, appointment booking was appropriate to the overall customer journey and monthly payment process provided the needed information were key focuses. Tested on five users per round.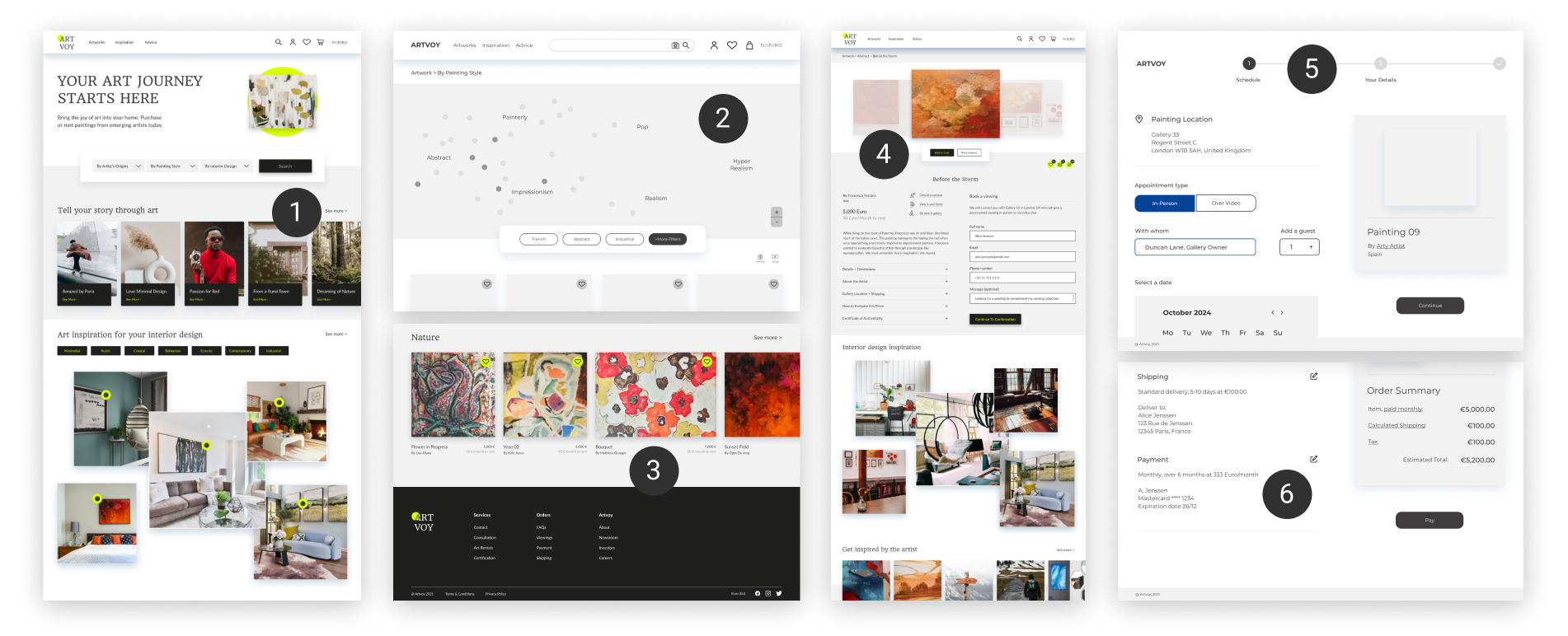 1. Obviously Art
Though the inspirational sections were helpful, users wanted to see art on the homepage.
2. Clear Search Diagram
More clarity was desired on the diagram's meaning or how it related to result categories.
3. Encourage Exploration
Ensure users are able to continue exploring when finished with certain tasks or searches.
4. Importance of Dimensions
Users wanted to see dimensions earlier on, as it is an important consideration for art purchases.
5. Repeat Bookings
If users were booking multiple viewings, the existing flow took too much time.
6. Clear Monthly Payment
Improve information available on monthly payments to avoid confusion during the process.
The Result
Younger art collectors are provided curated options to narrow their search, enabling them to find the painting that will enhance their life. There is a degree of flexibility during consideration and purchase. Services like monthly payment plans and renting provides a lower barrier to acquiring art, while appointment bookings speak to the desire to see paintings in-person.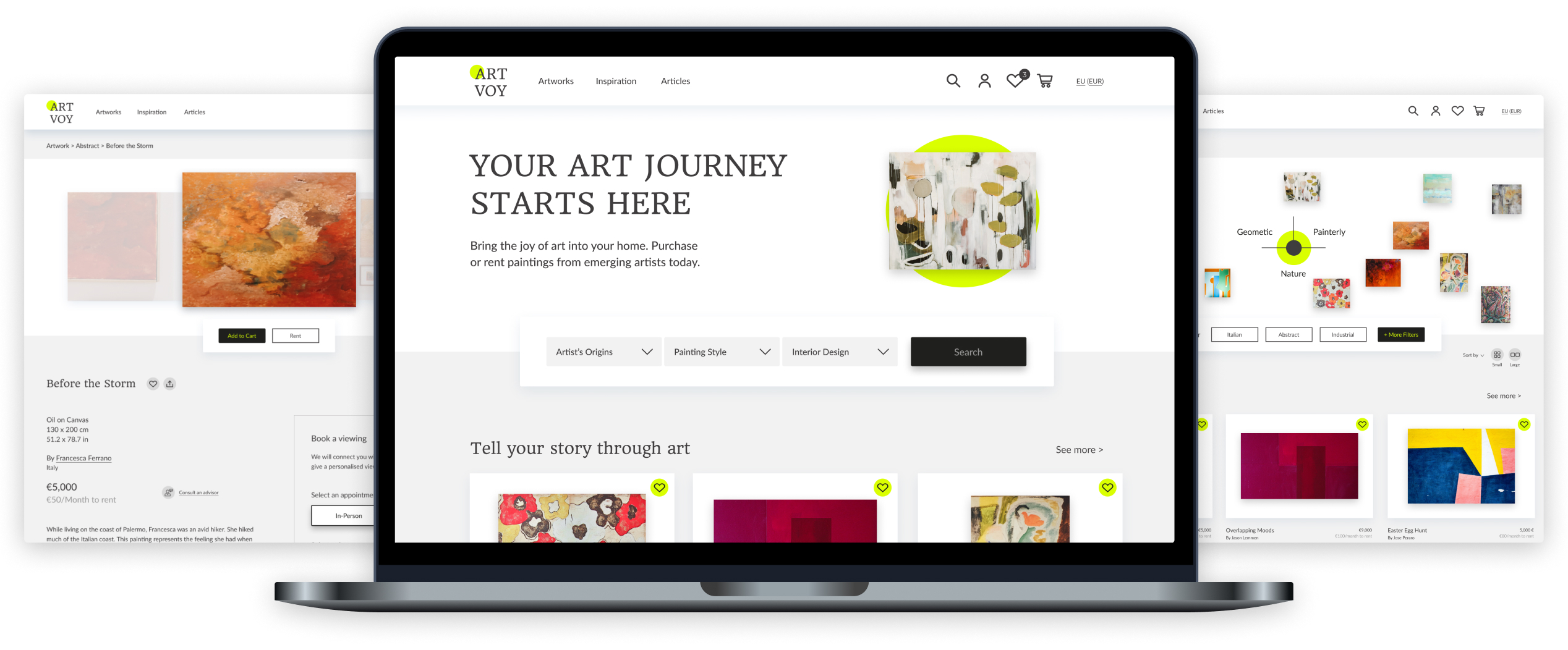 Interactive Search: An interactive search bar and search results spectrum make it easier for users to narrow down selection.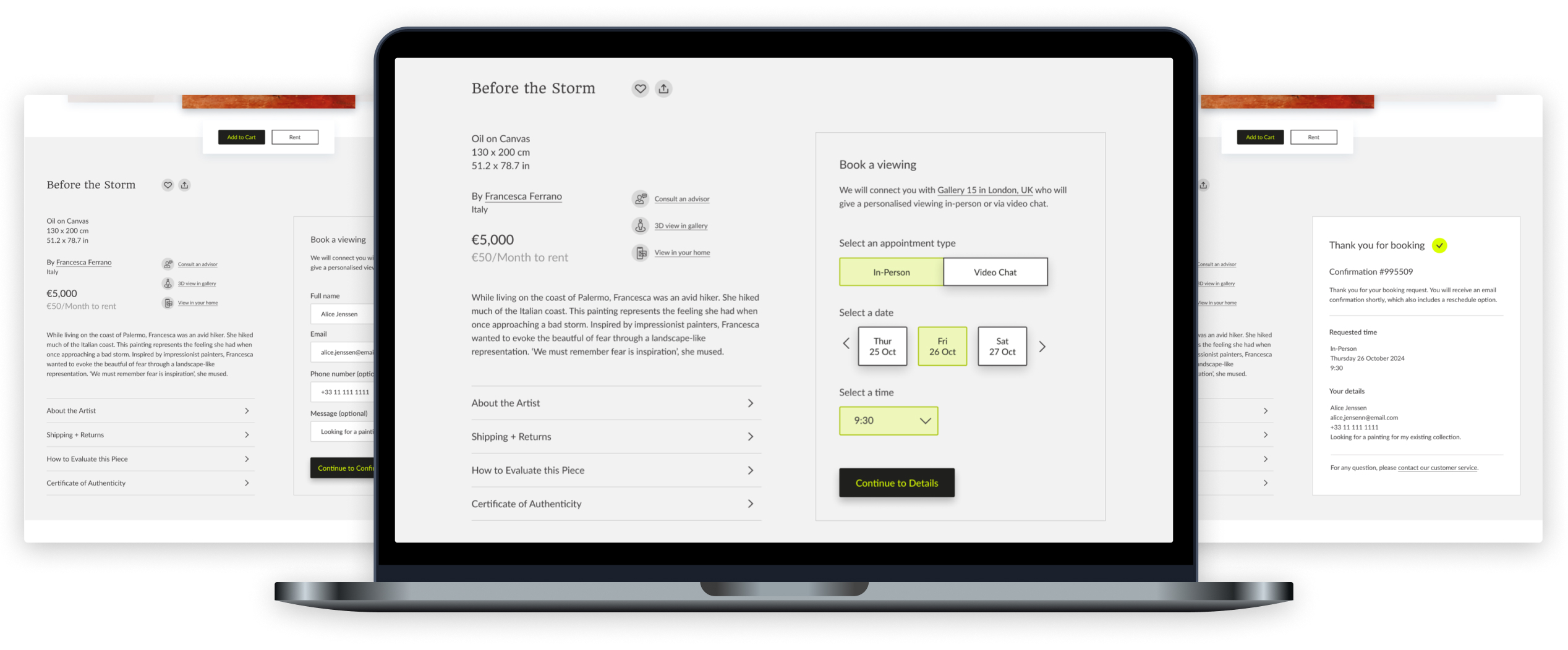 Booking In-Page: In order to make repetitive bookings easier, this is done in-page, much like Zillow.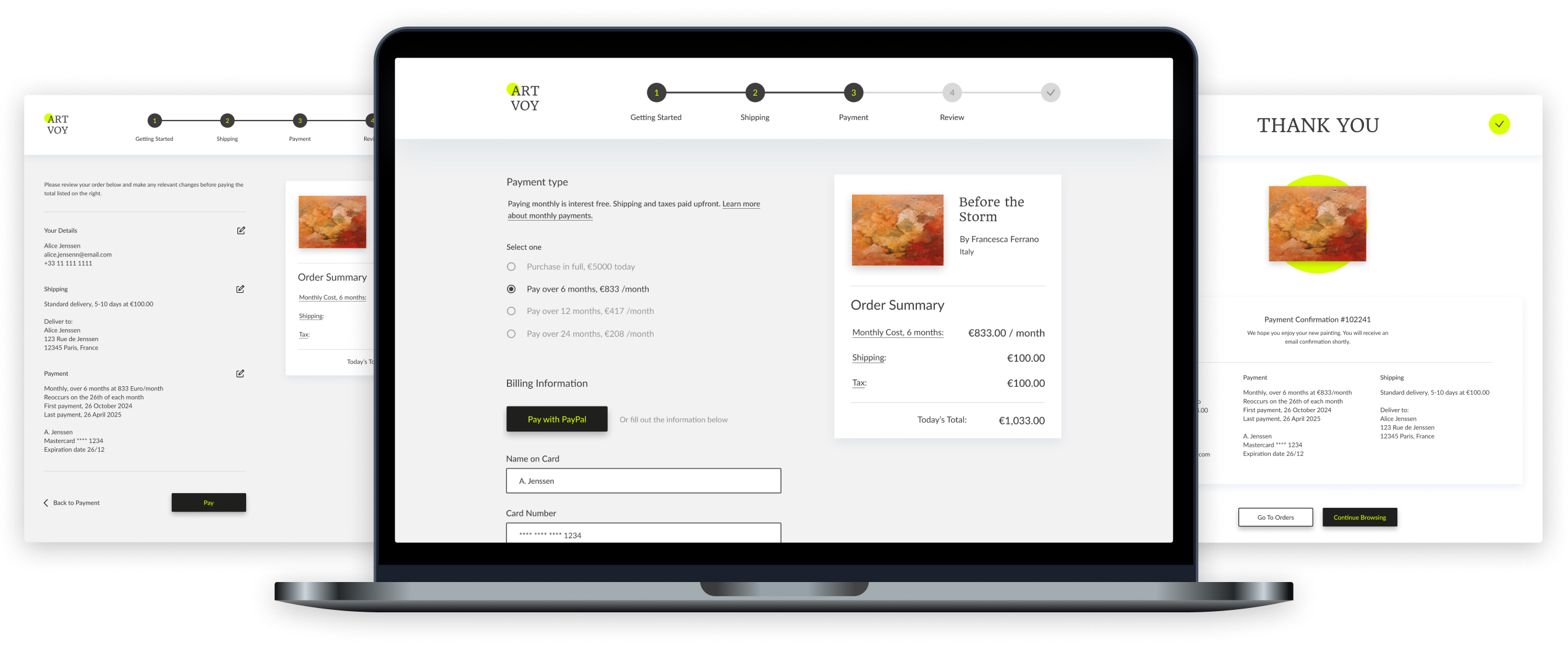 Payment Options: To encourage spontaneous purchases, monthly payments and rentals are available.
The Debrief
Artvoy features patterns that deviate from normal ecomm experiences due to the nature of an art purchase at that price. For this reason, these would require further testing. This could be done through A/B and tree testing. Once launching the site, it would be beneficial to understand how users are reacting to the three call-to-actions and booking on the product page.
High-Ticket is Still Emotional
Purchasing a painting by emerging artists even above 5k is still emotional. This influences how paintings are shown and what information is valued.
Conversions can Include Offline
Many users still valued seeing a painting in-person. This means the time to convert is longer, and should be accommodated within a digital platform.
Social Media's Influence
Instagram made it easier to view curations, interior design ideas and artistic process. This level of accessible is valued within higher price purchases as well.